Location and Keyword Driven
Banner Campaigns
Target your ads and drive traffic to your site
Pinpoint Targeting
Display banners to locations you serve and on keywords relevant to your business.
Raise Branding & Awareness
Put your company in front of prospects looking for what you offer.
Why run a banner campaign on XPRT?

Target the right audience
Make your impressions count by choosing specific locations and keywords to target.

High visibility
Get prime real estate on our homepages & search result pages. We deliver around 10,000 impressions per month depending on demand for the keyword and location you select.

Flexibility and control
Switch your creatives as often as you like. Choose the campaign duration and number of banner impressions to fit your budget.

Run multiple campaigns simultaneously
Run different campaigns at the same time with different keyword and location targeting. Great for split testing!

Tailored to your needs
Our staff will advise you on the best way to structure your display ads depending on your needs & budget.

Full analytics on demand
Our staff will provide you with impression & click data anytime you wish.
What banner sizes & formats are available?
Depending on your needs, you can run one or multiple banners simultaneously. Choose from the following ad formats:
Home page feature
With great size comes great visibility with this 960x400px, our largest banner slot right on the homepage of Environmental XPRT, Energy XPRT, Agriculture XPRT or Medical XPRT.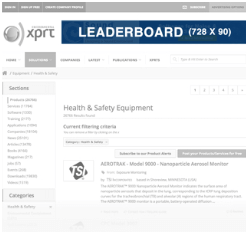 Leaderboard
Appearing at the top of all search result pages, this 728x90px slot is designed to reach the largest cross-section of site visitors.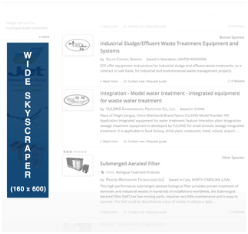 Wide skyscraper
This 160x600px banner displays alongside search result pages, and is ideal for driving clicks to your company website.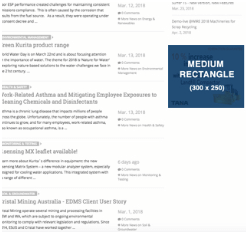 Medium rectangle
This 300×250 banner appears on the news mainpages of Environmental XPRT, Energy XPRT, Agriculture XPRT or Medical XPRT.
Campaign rates:
Cost per thousand impressions (CPM): 45€
Minimum order: 5,000 impressions
Design rates:
Static banner: 35€
Animated gif: 70€
Flash: 90€
The rates mentioned above are per creative (eg. 160×600, 300×250, 728×90, etc.)

We offer a 50% discount for the 2nd creative if ordered simultaneously and the material used is the same as the 1st.
Ready to get started?
Contact us for a customized quote