How This XPRT Free Profile Has Generated 15 Requests in Just Over 6 Months
So far in 2019, METER Group, a US-based manufacturer of environmental and agricultural monitoring instruments, has generated 15 buyer requests with its free profile, making it one of the top-performing free profiles on the XPRT marketplace this year. Today's post examines the keys to success behind METER Group's outstanding performance and a few suggestions for improvement. It's full of tips that any supplier with an XPRT free profile can put into practice right away.
Appearance & branding
We've stressed before how important it is to give buyers a great first impression and ensure they have enough confidence in your business to send you a request for quotation. As you can see below, METER Group has done well to upload their most recent logo so that absolutely every page of their profile displays their brand right at the top of the screen. No matter where potential buyers land, whether the profile mainpage, a product page, a download, etc., it's easy for prospects to relate the page content with the METER Group brand.
We also see that most of METER Group's product pages contain images, which is especially important for buyers who are browsing XPRT's product search result pages. Those buyers are much more likely to click on a product with an image than they are one with a company logo or a simple placeholder image. It's an easy way to stand out above competitors!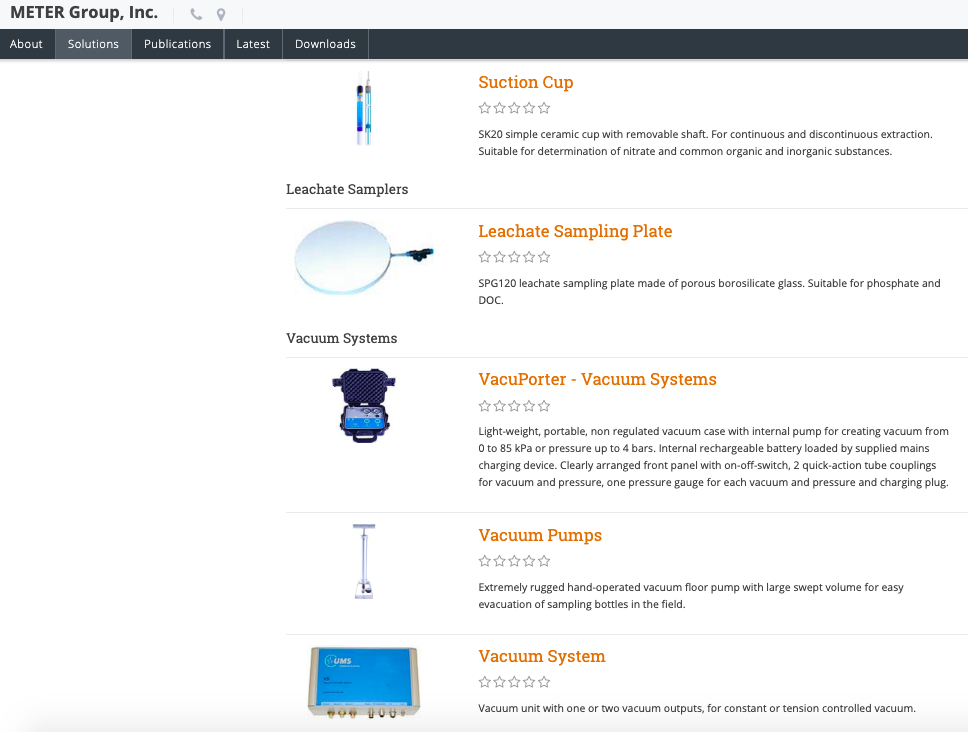 We did notice that not all of METER Group's products contain product images, so that's one clear way they could capture more buyers from search result pages. We would also recommend they upload their own background image to go along with the company logo on their storefront header. Just one background image would make all of their company profile pages more attractive.
Overall, METER Group is doing a fine job in the Appearance & Branding category, but where they're really making a difference is in the next two categories.
Product catalogs
METER Group excels in this department, with 48 products published spanning two of XPRT's industry-specific marketplaces, Environmental XPRT and Agriculture XPRT. And as you can see below, their product titles are keyword-rich. Keywords in product titles matter a great deal in XPRT's search algorithms.
If there's one stat that highlights the importance of including your product catalog on XPRT, it's this one: 14 of METER Group's 15 requests this year have been in reference to specific products! In other words, their product catalog has been directly responsible for helping them generate 15 requests this year instead of just one!
We also love how METER Group's product pages include details about typical product applications and tech specs, all vital information for buyers when they're evaluating potential suppliers.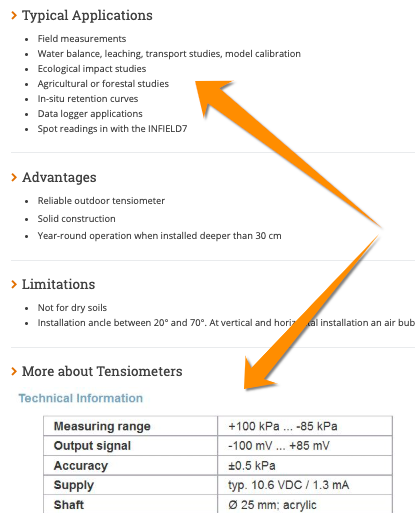 If we had to pick on something in this category, it would be that a few product titles could be improved, such as the one below, which would appear higher in keyword searches if it were named "AccuPAR lightweight, portable PAR sensor" rather than just "AccuPAR":

Overall, the METER Group product catalog forms the foundation of their success on XPRT, but in our opinion, the next category is their true secret to going above and beyond.
Location data
Nearly 60% of buyers who submit RFIs or RFQS to suppliers on XPRT marketplaces after running keyword searches have filtered those keyword searches by location. Clearly, location matters to buyers, so if you supply your products to international markets, we can't stress enough how important it is to list your offices and distributors in those markets. It's the only way to appear on result pages that buyers have filtered by physical location.
And METER Group is doing this exceptionally well. They list a whopping 36 distributors on XPRT! The result is that those 15 requests they've generated so far in 2019 have come from buyers in North America, Latin America, Europe, Asia & Middle East. As stated on the METER Group website, they distribute their products all across the world, so we can only assume they're extremely pleased with the geographical spread of their XPRT leads.
The combination of adding lots of products to XPRT and listing all or nearly all their distributors has catapulted METER Group into the upper ranks of XPRT free profiles. Here's one example of how they're doing it:
Other content
Not only does METER Group have 48 products listed on XPRT, they've also published 54 downloads (brochures, datasheets…). Those downloads provide buyers with additional information they may need before submitting an RFQ and may even work as magnets attracting buyers from other areas of the site over to their product pages.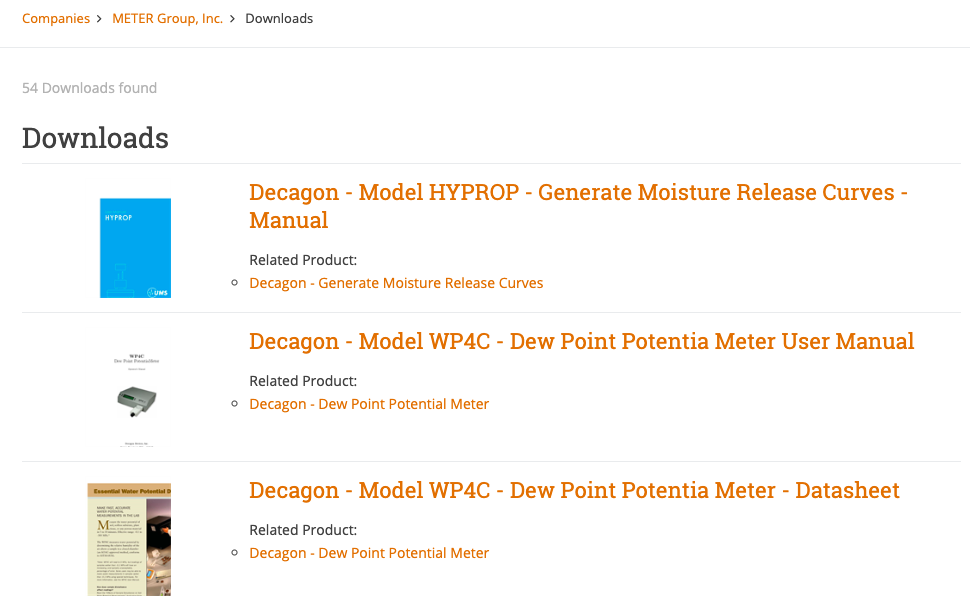 We noticed METER Group hasn't added any recent news stories, articles or case studies to their free profile, so that would be our only suggestion for improvement in this category. News, articles & case studies may be selected to appear in XPRT's weekly newsletters and attract even more buyers.
Interaction with XPRT buyers
METER Group replies to every single buyer request they receive through XPRT without fail. They leave no stone unturned! We believe businesses with that sort of dedication to their prospects get rewarded in the end.
As a result of their interaction, they certainly have a good idea of the quality of the leads they're getting through XPRT and can use that information when it comes time to evaluate whether or not they wish to scale things up with XPRT Premium.
Kudos to METER Group for being an XPRT star!
How can you become an XPRT star like METER Group?
As an XPRT supplier, you too can apply all the tips in this post by editing your company profile or publishing your content with our free online tools. If you have any doubts along the way, contact us and we'll be happy to help. And remember, if you're short on time and would like XPRT to do the content work for you and scale up your lead generation efforts, XPRT Premium can do just that.
Don't have an XPRT company profile yet? Take five minutes and add it here.