How to Convert Soft Leads to Customers Using XPRT
Some of XPRT Premium's most powerful features revolve around soft leads, buyers who browse your XPRT profile but don't send you a direct message. These potentially valuable leads are typically in the process of comparing products from a variety of suppliers. And if you follow up, chances are you'll gain an advantage over your competitors.
With Premium, you can view soft lead details to qualify them, import soft leads into your own CRM and contact all of your soft leads. We notify you right away of soft leads displaying buying signals on your storefront, such as viewing downloads, videos or your company's contact details. We also send a weekly digest that contains all of your soft leads. And you can access your soft leads on your tracking report anytime.
But how should you follow up with your soft leads? Are you doing everything you can to nurture your leads and convert them to paying customers? Follow these steps to take full advantage of your soft leads:
Make sure we're sending your soft leads to the right place
The first question to ask is who in your organization is responsible for screening your soft leads and ensuring they get followed up with properly. It's easiest to task a single person with screening and distributing XPRT leads, but since all leads are tagged with their location, splitting up leads by region is also a possibility.
Once you know who will be processing your leads, head to your company's Staff & Administrators page and add anyone who is missing. Then make sure to assign them the role of either Administrator or View Reports (click here to learn the differences between roles) and subscribe them to both Lead Interaction Alerts and Traffic Reports.
Qualify your leads
Lead interaction alerts are sent from no_reply@xprt.com a few minutes after a prospect views one of your downloads or videos or your company's contact details. While it may be tempting to follow up with the lead right away, we recommend waiting at least a few hours so that the prospect finishes browsing. That way you'll get a snapshot of their full browsing history and can easily determine how to follow up.
You'll be notified of other potential buyers that have browsed your storefront while signed in but haven't taken any of the above qualifying actions in your weekly traffic report, sent every Monday from expert@environmental-expert.com.
When you click on the prospect's name from the lead interaction alert or View Activity from the weekly traffic report…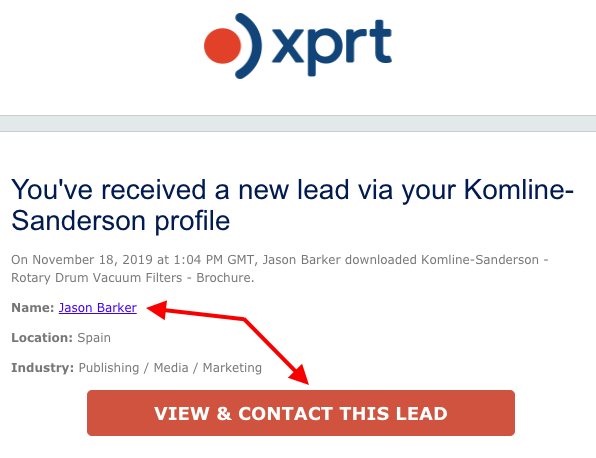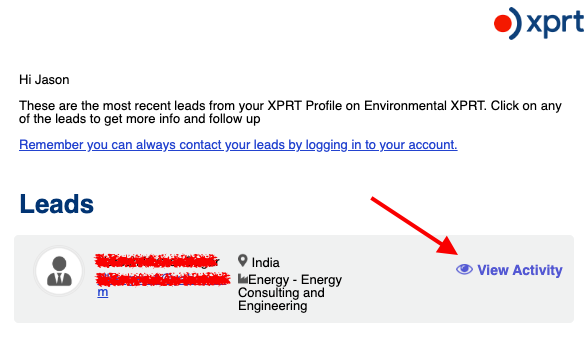 …you will see a screen with the lead's details: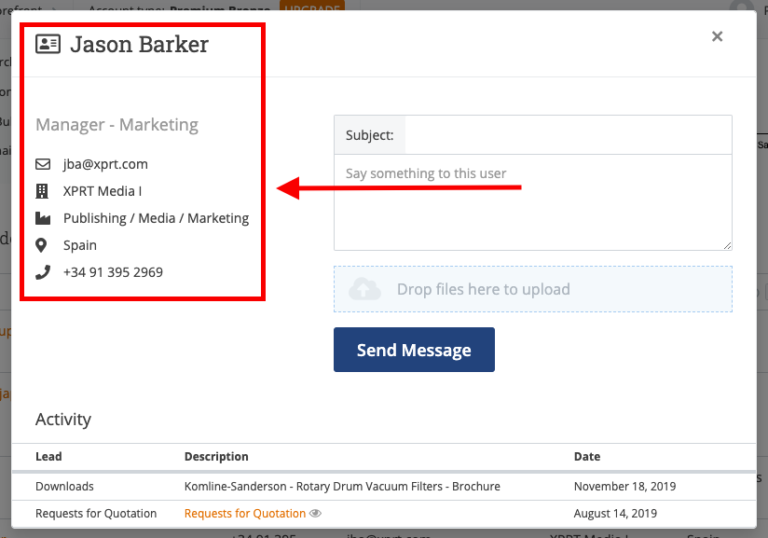 These should always include the full name, email address and location, while other details such as job title, company name, industry and phone number will appear if provided by the buyer.
Are there any disqualifiers here? A location you can't serve (keep in mind the prospect may need your products in another location that you do serve)? An industry you don't target?
If there are no obvious disqualifiers, focus on the company name. If it's not provided, simply use the email domain. If the email domain is a generic one, such as Gmail or Yahoo, try Googling the prospect's name to figure out which company he or she works for. If you can't determine which company your lead works for, it's probably best not to waste your time following up. If, on the other hand, you do have a company name, you can quickly determine lead strength by taking a look at the company's website and finding out if it's a legitimate target for your products.
At this early stage, don't worry so much about the contact's role in the company. If they're researching your products, it's a good bet they influence purchasing decisions at the very least. If the company is a fit, it's generally a good idea to proceed with lead qualification no matter who the contact is.
Now it's time to scroll down the page a bit and check the prospect's activity: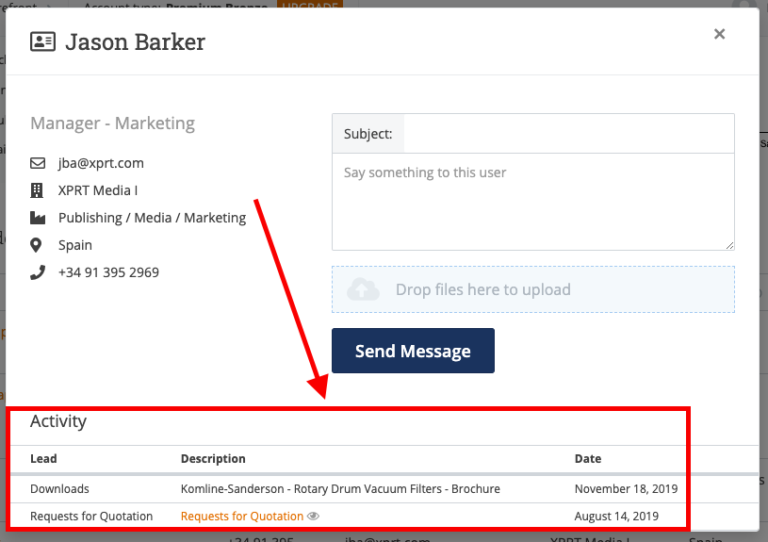 Do you see any requests for quotation or requests for information in the recent activity? If so, just click the link and answer the prospect's message directly in your XPRT inbox rather than start a separate conversation regarding their interactions leading up to the request.
If, on the other hand, the prospect hasn't sent you a direct message, scan their browsing history to find out what pages, downloads and videos they have viewed, then determine which of your products they seem to be most interested in (usually the ones related to downloads or videos they have viewed) and is a good fit for their business.
Follow up with your leads
Now that you've determined which leads are worth following up, it's time to take action. And don't worry about permission to email these prospects. All of XPRT's registered users have agreed to share their email address with suppliers listed on the site and be contacted by them.
There are two basic follow-up strategies you can use: 1) follow up with a single email; 2) import into your own CRM and follow up with an email sequence. No matter which strategy you choose, it's important to make contact within the first 1-2 days of the prospect's interactions with your content, while you are still fresh in their minds.
Of course, most of the leads you pick up from the weekly traffic report (the ones who haven't viewed downloads, videos or contact details) will be more than 1-2 days old. That's why I would recommend checking the unique identified leads section of your tracking report daily to ensure swift follow-up.
If you decide to send a single follow-up email, you can do that straight from the lead detail view and we'll send the message on your behalf. But keep in mind you can also copy the email address and send them a direct email.
If you decide to import leads into your own CRM then place them on an email sequence, keep in mind you can export your leads into a spreadsheet straight from the tracking report to save time.

What should I send to soft leads?
The answer is simple. Send them content related to the product or service in which they showed the most interest AND is a good fit for their business.
Your first email should include:
How you got their details – For example, Thanks for checking out the [product name] on the XPRT website.
The purpose of your email – When it comes to soft leads, the main purpose is to find out if they have any specific questions about the product they were viewing.
Further product info – A link to the product page on your site, brochures, references, spec sheets, videos, etc.
Relevant contact details – Provide both the phone number and email address of the correct contact in your organization.
And a full email sequence should strive to overcome the main reasons prospects don't buy, such as:
Apathy – Clearly state what problems your product solves and what industries and applications it can be used for. You want prospects to see themselves when you paint a picture of your buyer persona.
Skepticism – Provide social proof related to the product of interest in the form of client testimonials, a link to a customer list, a relevant case study, awards, mentions in the media, etc.
Procrastination – This is usually the hardest obstacle in the world of B2B marketing, where limited time product offers aren't so commonplace. But you can create scarcity by linking to a calendar showing your reps' availability over the next couple of weeks, mentioning what trade shows your company will be attending or trying to set up a chat before the end of a season (before summer, before Christmas, etc.).
Over to you
Soft leads are typically potential buyers who are shopping around and have already browsed a number of similar products from other suppliers. In other words, you're likely just a face in the crowd to them. But they are a potential gold mine.
Approaching your soft leads is like stepping away from that crowd, shaking your prospect's hand and having a brief chat. Ultimately, it puts a name to your face and increases the likelihood the prospect will think of you when it does come time to make a purchasing decision.
If you're already an XPRT Premium member, you can view and contact your soft leads today.
If you're not signed up to XPRT Premium, you can both follow up with your soft leads and get up to 200 times more of them compared to the free level. Schedule a 10-minute demo to learn about all the benefits of XPRT Premium.