Now that all companies with an XPRT profile, both free & Premium members, have access to buyers' email addresses, it's a good time to recap the various ways suppliers can reply to both the hard and soft leads generated through the XPRT platform. How you choose to reply to your leads can have an impact on the quality of the leads you generate through XPRT.
Replying to hard leads
When a prospective buyer sends you a direct message, whether a request for quotation or information, we call that a hard lead. Hard leads are permanently stored in your XPRT Inbox and, if you are subscribed to your company's RFI / RFQ Alerts (subscribe here), you will also receive a lead notification email that includes the buyer's message.
There are now 3 ways to reply to your hard leads:
1) Reply using your XPRT Inbox
To reply to your leads using your XPRT Inbox, simply click the Reply button from your lead notification email.
Or navigate directly to your XPRT Inbox, then click either the reply arrow or Reply Now link, and finally type your message into the online editor and click the Send button.
Your reply will be immediately delivered to the buyer by email and to the buyer's XPRT Inbox.
There are three advantages to replying to hard leads using your XPRT Inbox:
you won't be bothered with reminder emails from XPRT regarding this lead until the buyer replies;
your replies help XPRT deliver better leads, since we can then analyze what types of leads are of most interest to suppliers and fine tune our lead screening process accordingly and;
buyers gain confidence in the XPRT platform and submit more requests when they clearly see that their XPRT requests generate responses.
And what if the lead is not relevant and you do not wish to reply? Simply move the green switch above the message to the closed position and mark the reason for closing the request.
Closing the request also means you won't receive reminder emails about this lead from us and you provide XPRT with valuable feedback that helps us deliver better quality leads.
2) Reply directly to lead notification emails
Even quicker than replying through your XPRT Inbox, you may also reply directly to the hard lead notification email you receive from XPRT. Just like replying through your XPRT Inbox, the buyer receives your reply right away, you will not receive hard lead reminder emails from XPRT until the buyer replies, you help XPRT deliver better leads, buyers come back for more, and your replies automatically add to the message threads in your XPRT Inbox.

3) Reply to the buyer's email address
For businesses at our free level, this method is the new kid on the block. Since January 2022, all businesses with a profile on XPRT, both free & Premium, have access to their leads' email addresses in order to more easily evaluate lead quality when buyers haven't provided a company name. You can find the email address just above all messages on your XPRT Inbox.
You can access the inbox and see the lead's email address by clicking either the buyer name or Reply Now button on your hard lead notification emails (note that XPRT Premium members can see the buyer's email address on the lead notification email itself).
While you are free to pluck buyers' email addresses from your XPRT Inbox and communicate directly with them outside the XPRT platform, keep in mind XPRT will not know whether or not you replied, thus making it more difficult for us to improve the service over time. It also means you will continue to receive request reminders.
XPRT Tip: Start conversations with buyers by either replying using your XPRT Inbox or replying directly to lead notification emails. If the buyer replies to your message, feel free to continue the conversation outside the XPRT platform. That way you both contribute toward improving XPRT lead quality and comfortably carry on conversations with prospects who show interest in the way that's most effective for your business (direct email, phone, your own CRM, etc.).
Replying to soft leads
When buyers access valuable content published on your storefront, you generate what we call soft leads, which are the equivalent of marketing qualified leads who have submitted their contact details to access gated content you have produced as part of your content marketing efforts.
When a soft lead is produced, XPRT sends you a soft lead notification email, which is easy to differentiate from a hard lead notification because instead of a message from the buyer, it simply states what action the buyer has taken on your storefront.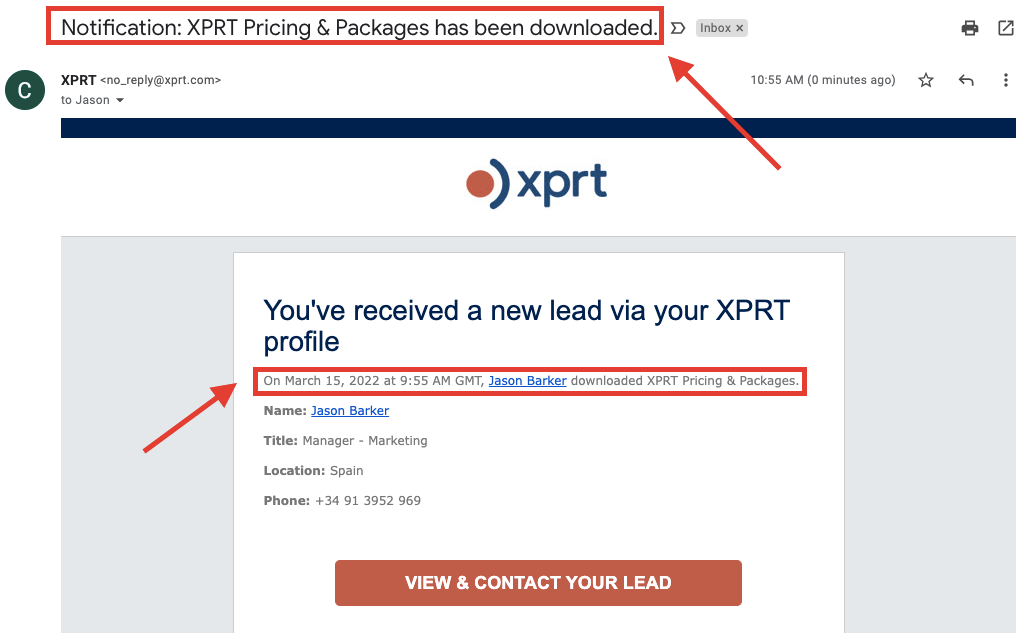 Your soft leads are also permanently available just below the chart on your Unique Identified Leads report.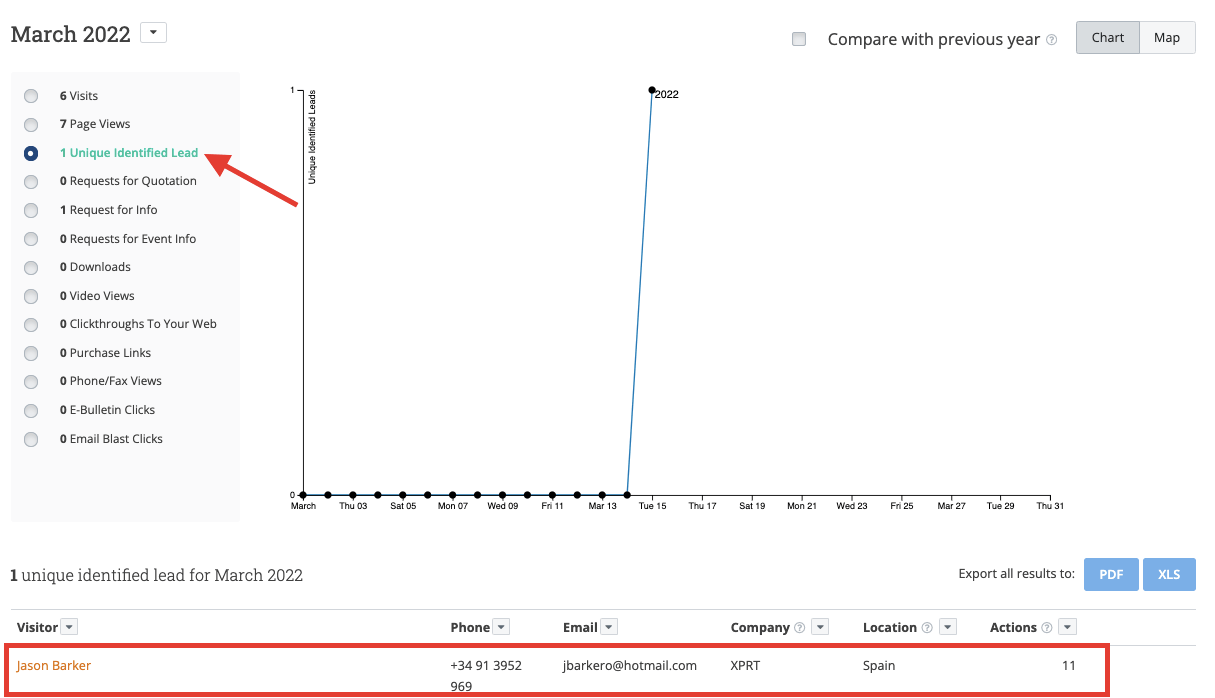 You may follow up with your soft leads in two ways:
1) Send a message via XPRT
When you click on the buyer name or button from soft lead notification emails (or click a buyer's name from any page of your online tracking report), you will land on a buyer details page that looks like this:
Simply fill out the Subject & Message fields then click the Send Message button. The buyer will receive your message immediately by email.
Once again, following up via XPRT helps us determine which leads are of most interest and fine tune lead quality over time.
2) Send a message directly to the buyer's email address
The buyer details page also includes the buyer's email address.
You may copy the email address and send the buyer a direct email if you wish..
Over to you
Head on over to your XPRT Inbox to view and reply to your most recent hard leads or your Unique Identified Leads report to view and follow up with your most recent soft leads.
Need more leads?
You may want to read our 4 Steps to Start Generating Leads with Your Free Company Profile on XPRT or take the shortcut and book a demo with one of our XPRTs to discuss how we can help you generate more leads with XPRT Premium.
Don't have a company profile on XPRT yet?
In less than five minutes, you can publish your free company profile on the XPRT platform. Once your profile is online, we'll follow up with advice on how to start generating leads.