What You CAN and CANNOT Do with Your XPRT Free Profile
Would you like a better understanding of how your free company profile on XPRT works but haven't had the time? If so, then this is your golden opportunity. Today's post clarifies the benefits & limitations of this powerful lead generation tool so you can confidently incorporate it into your marketing operations.
Yes, you CAN do the following with your free profile on XPRT:
You CAN reply to unlimited hard leads
Hard leads are requests for information and requests for quotation sent to you by buyers navigating one of the XPRT marketplaces. When you generate a hard lead, we send an email from messages@xprt.com to contacts at your company who are subscribed to RFI / RFQ Alerts. You may reply to your hard leads by:
Replying directly to the email notification using your email client
Clicking the Reply Now button in the email notification to view the lead in your XPRT inbox then clicking either Reply below the message or the arrow just above and to the right of the message.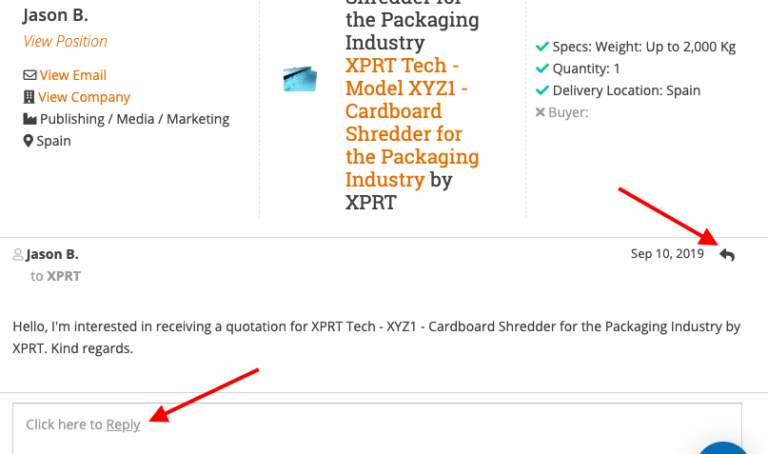 Remember that while you may reply to all of your hard leads, you won't get as many at the free level. With XPRT Premium, you can expect between 30 and 200 times more leads than at the free level, depending on the package you choose (Bronze, Silver or Gold).
You CAN publish unlimited content
One of the best ways to increase your chances of appearing on XPRT search result pages and generating leads is by publishing more content. Start by adding what you sell (equipment if you are a manufacturer or distributor, software if you are a software provider, training courses if you are a training provider, events if you are en event organizer, etc.). Then move on to supporting content such as downloads, videos, articles and news stories.
You may also add unlimited text and images to your content. And make your content as engaging and informative as possible, just as with your own website.
You can also add all of your offices, distributors & locations served to expand your reach into searches that buyers filter by specific locations.
You CAN find out how your free profile is performing in real time
Your online tracking report is full of useful information that helps you monitor your performance on XPRT. It provides month-to-month graphs of the number of visits, pageviews, leads, requests and interactions your free profile is producing. It also shows you where visitors are located and what content they are viewing.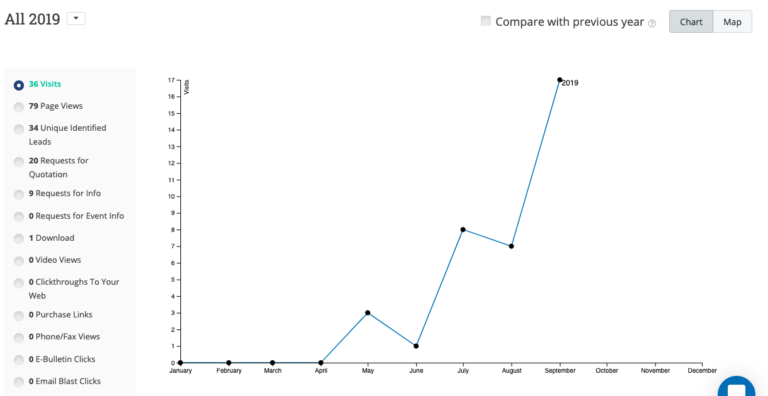 You CAN get matched to buyers
Many of our buyers ask XPRT to match their requests to other suppliers who can help them with their needs. Even if you're at the free level, we will match relevant requests to your business. You will receive less of these than XPRT Premium Members do, but you can reply to all of them just as you would with requests sent directly to you.
You CAN view additional details buyers have added to requests
In the summer of 2019, we added a new feature allowing buyers to add details to their requests, namely specs, quantity, delivery location and whether or not they are the end buyer. Even at the free level, you may access this information whenever available by viewing requests in your XPRT inbox.
No, you CANNOT do the following with your free profile on XPRT:
You CANNOT view your leads' contact details
Viewing the full name, company name, email address & phone number of your leads is an XPRT Premium benefit. While you may request these details from buyers when you reply to your hard leads, XPRT Premium allows you to see this data up-front on the email notification and your inbox. This makes it easier to qualify your leads.
You CANNOT send messages to your soft leads
If you are subscribed to your company's Lead Interaction Alerts, you will receive emails from no_reply@xprt.com whenever buyers take actions on your free profile, such as view a download, video or your contact details. We call these soft leads.
At the free level, these notifications are purely informative, allowing you to monitor your profile's performance. With XPRT Premium, you would be able to follow up with all your soft leads and move them through the sales funnel.
You CANNOT get XPRT to update, maintain & optimize your content for you
At the free level, you are responsible for updating & maintaining your content. With XPRT Premium, we can save you time by handling your content updates & optimization for you.
You CANNOT gain additional exposure to buyers across the XPRT platform
As long as your content contains the right keywords, your free profile will appear on relevant search result pages of XPRT marketplaces. But in order to get boosted to the top of search results, publish web banners, sponsor XPRT newsletters and send dedicated emails to opted-in buyers, you would need to either upgrade to an XPRT Premium package or purchase email blasts or display banner campaigns separately.
Would you like to learn more about your XPRT profile?
We love to hear your questions and feedback. Contact our XPRTs anytime to find out more about what you can do with your free profile and how you could improve improve its performance.